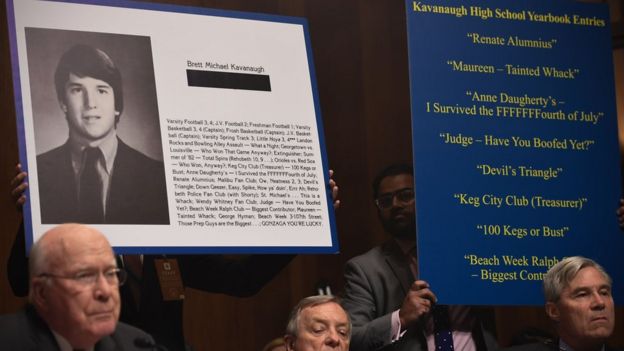 How the narrative has changed with a Democrat under attack.
Via BBC:
There are many ways to bring down an opponent, but up until a few months ago, who would have thought a school yearbook would be quite such an effective tool?

But time and time again, old school yearbooks are being dug up and thrown open – revealing treasure troves of comments and pictures the implicated would have preferred remained buried.

Just look at the way the words of Supreme Court Judge Brett Kavanaugh's entry in his 1983 high school yearbook was poured over. Proof, his detractors argued, he was a liar. Proof, therefore, he should not be confirmed to the highest court in the US.

Then there is the picture on Ralph Northam's page in his Eastern Virginia Medical School yearbook. The photo – a man in blackface, and another dressed as the Ku Klux Klan – is proof he is a racist, his detractors argue. Proof he should no longer be governor of Virginia.

In both cases, the men argue, they were misrepresented. Mr Kavanuagh said the words in his yearbook were being misinterpreted, while Gov Northam said it was not him in the offending picture.

Either way, it didn't really matter. School yearbooks, it seemed, are no longer just a fun way of finding out what a film star looked like before they were famous. School yearbooks, it turns out, can destroy lives.

It didn't take long for newspapers and political opponents to start flicking through old yearbooks in search of more scandal after Gov Northam's blackface photograph emerged.

The tradition is more than 200 years old, although the first "official" one – snappily called "Profiles of Part of the Class Graduated at Yale College, September, 1806" – had silhouettes rather than pictures.

According to a 2010 NPR report, by 1995 US colleges were producing some 2,400 yearbooks annually. Add to that the high schools, and the sheer potential for scandalous entries becomes all too clear.

In the last week alone, the Daily Mail has uncovered pictures of people wearing KKK costumes "lynching" a man in blackface in the North Carolina governor's 1979 yearbook – although there is "no suggestion" Roy Cooper appeared in any of the tome's offending images.

The New York Times trawled through more of Eastern Virginia Medical School yearbooks to find a catalogue of sexist and racist incidents. A Guardian report notes editions of Corks and Curls, the University of Virginia's yearbook, at least before the 1970s, were full of more of the same.