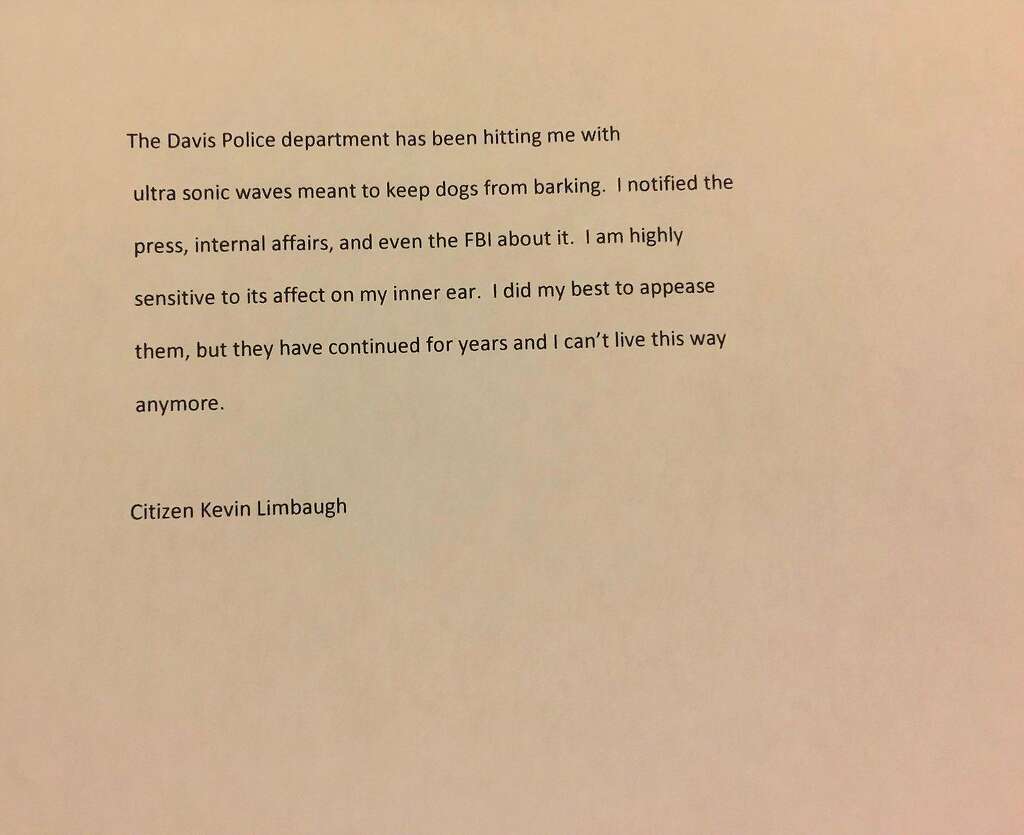 The coward took the self-inflicted taxpayer relief shot.
Via SF Gate:
A 48-year-old man identified as the gunman in the ambush killing of a 22-year-old Davis police officer left a note in his apartment saying that police had hit him with "ultra sonic waves meant to keep dogs from barking."

The note was released by Davis police a few hours after Kevin Douglas Limbaugh of Davis was identified as the man who shot and killed Officer Natalie Corona on Thursday while the rookie officer was responding to a routine collision in downtown Davis, according to the Yolo County Sheriff's Office.

Hours after the shooting, Limbaugh killed himself with a single gunshot to the head as police closed in, said Davis Police Chief Darren Pytel. The note was found during a search by police of Limbaugh's apartment.

"The Davis Police department has been hitting me with ultra sonic waves meant to keep dogs from barking," read the note, which was typed on a computer. "I notified the press, internal affairs, and even the FBI about it. I am highly sensitive to its affect (sic) on my inner ear. I did my best to appease them, but they have continued for years and I can't live this way anymore."

According to Lt. Paul Doroshov of the Davis police, there's no way to tell exactly when the note was typed.

"There have been a lot of rumors as to why this happened, why he did what he did, and we're hoping this sheds some light," Doroshov said. As for the placement of the note, which was found face-up on Limbaugh's bed, "I really can't speculate as to why it was there like that."

The killing of Corona, and the shooting spree that followed it, was not Limbaugh's first brush with the law.

In September, Limbaugh was arrested at his Davis home — the same place where he shot himself — on a felony charge of battery with serious bodily injury, according to Yolo County Superior Court records.

The charge was reduced to a misdemeanor in October after a plea deal in which Limbaugh pleaded no contest. The deal resulted in an eight-day jail sentence and probation.

Limbaugh was also ordered to surrender a black .223-caliber Bushmaster semiautomatic assault rifle, according to court records.

Before the September incident, Limbaugh had no arrest record in Davis.

Court records show that Limbaugh did not report having any other registered weapons. Pytel said Friday he did not know whether the two semiautomatic handguns believed to have been used in Corona's slaying were obtained legally.