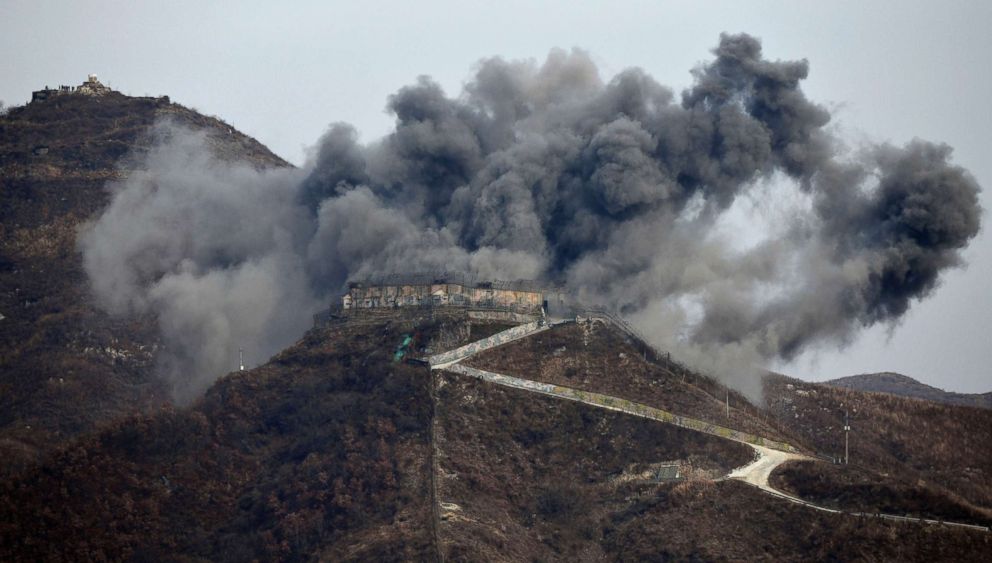 Getting closer to WWIII. (Sarcasm)
Via ABC News:
North Korea blew up 10 of its front-line guard posts in the Demilitarized Zone separating the two Koreas on Tuesday in accordance with agreements made with South Korea earlier this year.

The explosions were carried out simultaneously within a four-minute time frame after the North notified the South of the project, according to South Korea's Defense Ministry.

North Korean soldiers have been destroying the brick structures over the past couple of weeks. Analysts said they most likely decided to demolish the guard posts all at once to meet the Nov. 30 deadline.

A North Korean guard post that used to oversee the South Korean side of the heavily-fortified border was covered in black and white smoke after debris filled the air at the moment of the explosion. Video provided by South Korea's defense ministry showed the process of dismantling the guard posts.

South Korea is also in the process of tearing down 10 concrete guard posts — using excavators instead of dynamite for environmental reasons.

"We aim to verify the dismantlement, and ultimately withdraw all guard posts in both North and South Korean border military demarcation line," Choi Hyun-soo, South Korea's defense ministry spokesperson said during a briefing Tuesday.

The demolition of guard posts on both sides of the border at the Demilitarized Zone (DMZ) is part of a series of moves that South Korean president Moon Jae-in and North Korean leader Kim Jong Un had agreed to completely 'demilitarize' the joint security area during the third inter-Korean summit in September.