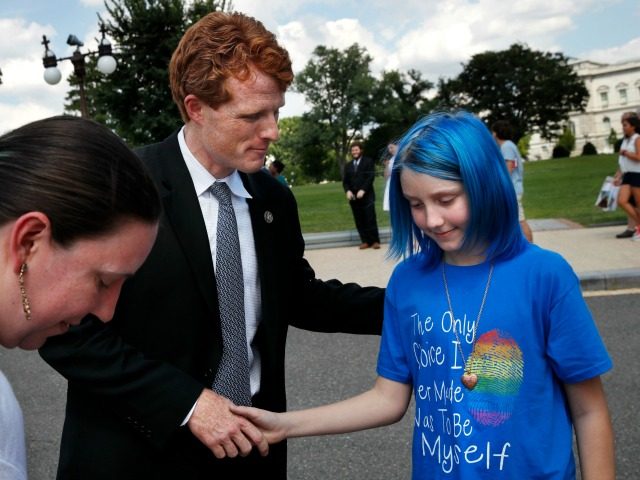 The science is only settled when it involves climate change.
Via Breitbart:
The Democrats' statement was sent to President Donald Trump's administration after the New York Times reported that the administration will formally clarify that the sex of people involved in sex-discrimination legal fights will be based on their male or female body.

Trump's biology-determines-sex policy "makes it clear that members of this administration are willing to … solidify an archaic, dogmatic, and alarming view of the world," the Democrats complain their letter to the Department of Health and Human Services (HHS).

The Democrats instead want government agencies to let people define their legal sex by declaring their internal feeling of male or female "gender identity," regardless of their male or female body and biology.

Yet there is no scientific or legal measure of "gender identity." For example, one gay advocacy group defines gender identity as "One's innermost concept of self as male, female, a blend of both or neither." So any person could claim to have an opposite-sex "gender identity" and become a member of the other sex at any time, for as long or short a time as they wish.

This identity-beats-biology change would erase any recognition of biological women and biological men from the law. For example, the transgender ideology says the idea of "women" would include men and women who say they have a female "gender identity." Women who insist they are women would be redefined as "cis-gender women," say transgender advocates.

If gender defines sex, the nation's anti-discrimination laws will force agencies, civic organizations, and cultural groups to bar recognition of the partly-different and complementary preferences and attributes of males and females.

This revolutionary change would have profound consequences. For one minor example, a female theater director could face an anti-discrimination lawsuit if she repeatedly chooses women to play the female leads in Romeo and Juliet, even when the show is aimed at a female audience. In November, the company that sells Victoria's Secret lingerie products was slammed because it does not use a mix of interchangeable men and women to model their clothing for women.