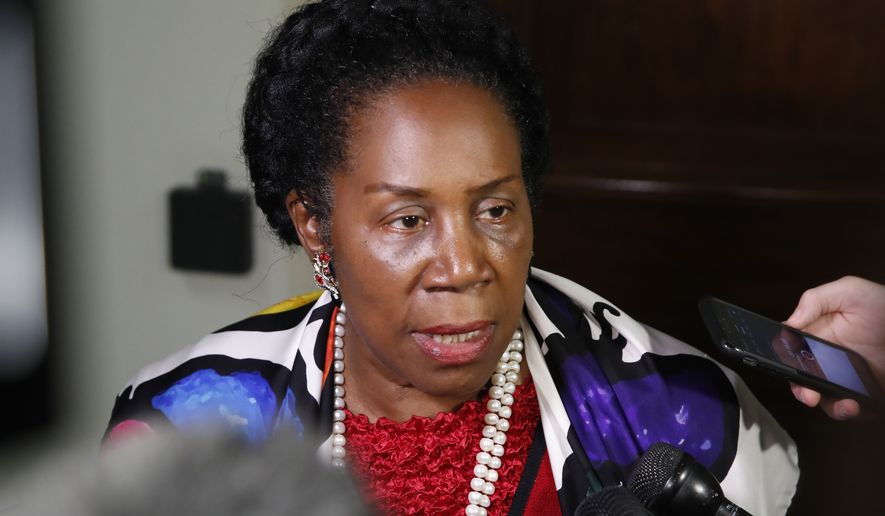 She sees racism when first class is full and she has to bump someone.
Democratic Rep. Sheila Jackson Lee of Texas accused President Trump Friday of engaging in "dogwhistle racism" with his criticism of three black female journalists this week.

"Dismissing them or their questions as dumb, racist or stupid says more about @realDonaldTrump and his #dogwhistle racism than it does about these fine women," Ms. Jackson Lee tweeted.

Mr. Trump has pushed back pointedly this week against April Ryan of American Urban Radio, Yamiche Alcindor of "PBS NewsHour" and Abby D. Phillip of CNN. After telling Ms. Ryan to sit down several times at a press conference because he hadn't called on her, Mr. Trump said of her Friday, "talk about somebody that's a loser."

"She doesn't know what the hell she's doing," Mr. Trump told reporters. "She gets publicity, and then she gets a pay raise, or she gets a contract with, I think, CNN. But she's very nasty, and she shouldn't be. You've got to treat the White House and the office of the presidency with respect."

When Ms. Alcindor asked the president at the same news conference if his rhetoric is encouraging white nationalists, Mr. Trump told her, "That is such a racist question."

And when Ms. Phillip asked Mr. Trump Friday if his appointment of acting Attorney General Matthew Whitaker was meant to rein in special counsel Robert Mueller's investigation, the president replied, "What a stupid question that is. And I watch you a lot, and you ask a lot of stupid questions."

Ms. Jackson Lee tweeted that the journalists are "3 of the finest reporters" in the White House Correspondents Association and called them "custodians" of the First Amendment.