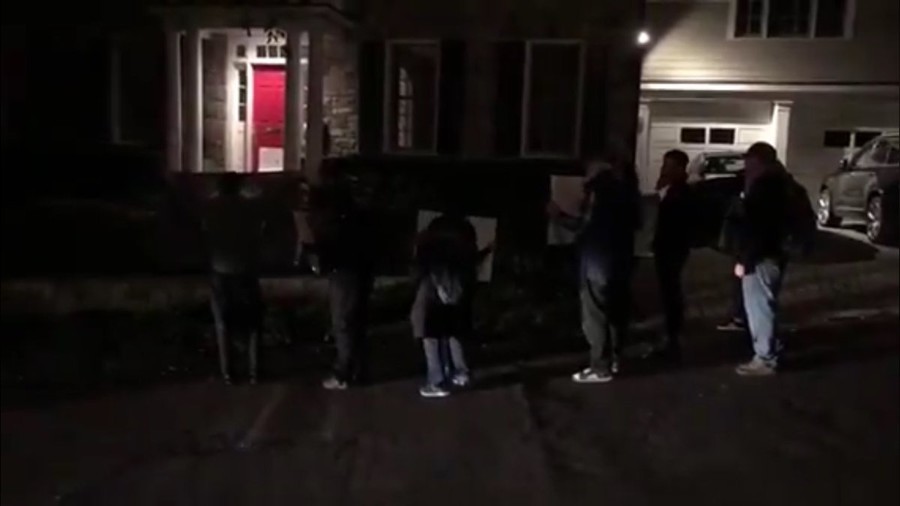 No brainer, Antifa posted video. Update to this story. In D.C., they consider attacking for political views a "hate crime" as well.
Via Daily Caller:
D.C. police are investigating a left-wing mob's protest at Fox News host Tucker Carlson's house Wednesday evening as a 'suspected hate crime' with 'anti-political' motivations, according to a police report obtained by The Daily Caller News Foundation.

The mob, organized by the Antifa group Smash Racism DC, posted Carlson's Washington address online and sent a mob to his house calling him a "racist scumbag" and demanded he flee the city. Carlson, a co-founder of The Daily Caller News Foundation, was at the Fox News studio when the mob arrived at his home.

A police report indicated that the incident was a "suspected hate crime" and that the case was still open. One box labeled "hate bias/motivation" was filled in "anti-political."

Carlson's wife, who was home alone at the time, reported that she heard loud banging and pounding on her front door, according to the police report. She called the police after witnessing a large group of people that had a bull horn and were chanting loudly outside the house.

"Someone started throwing himself against the front door and actually cracked the front door," Carlson told The Washington Post.

The police "arrived on the scene and found a group of approximately 20 people," the report read. "It was discovered that unknown persons spray painted an anarchy symbol on the driveway. There were also signs left on the vehicles parked in the driveway as well as a sign left on the front door of the home."

The vandalism to Carlson's vehicles and front door made reference to Carlson's political affiliation, according to the report.

The police also seized six hand-written posters from the scene, according to the report. Video of the incident shows the protesters carrying signs and chanting, "Tucker Carlson we will fight! We know where you sleep at night!"

"Tonight you're reminded that we have a voice," Smash Racism DC wrote in a now-deleted Tweet. "Tonight, we remind you that you are not safe either."

The group's Twitter account was suspended shortly after midnight on Thursday.

No arrests were made after police arrived on the scene, though there is an active investigation into the incident, Metropolitan Police Department spokeswoman Alaina Gertz told TheDCNF.

"MPD has allocated more patrols in the area as a response to this incident," she told TheDCNF.

It is unclear why no one was arrested.