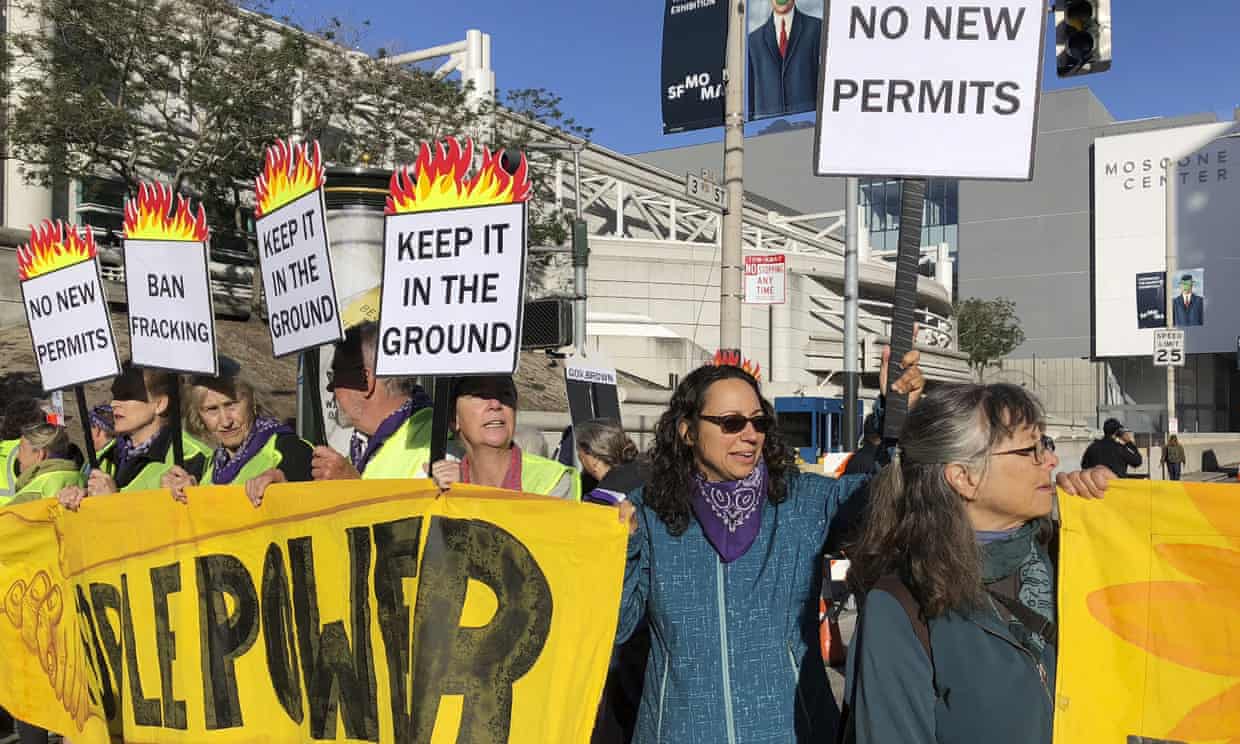 Not all unicorns and rainbows for Jerry.
Via The Guardian:
California's status as a progressive bastion on climate change action has been challenged by activists who attempted to barricade the way to a major summit in San Francisco and decried the oil and gas drilling they say is blighting the health of low-income and minority communities.

The Global Climate Action Summit is acting as a rallying point for cities, businesses and regions from around the world to outline plans to reduce greenhouse gas emissions. The event has been hosted by Jerry Brown, the governor of California who has been lauded as a progressive climate leader and bulwark against the Trump administration.

But community representatives claim Brown has largely abandoned certain neighborhoods to pollution from oil and gas drilling operations. California's central valley has some of the worst air quality in the country. Across the US, sicknesses linked to air and water pollution are disproportionately felt by people of color, who are far more likely to live near power plants, landfills and other toxic sites.

"Jerry Brown needs to stop oil drilling expansion and if he doesn't do that, what kind of leader is he?" said Alicia Rivera, a community activist in Wilmington, a district of Los Angeles with six oil refineries, several chemical plants, scrap yards and hundreds of oil wells. "He has failed in a big way."

Several thousand protesters marched through San Francisco on Thursday before attempting to block the entrance to the summit, where mayors, prime ministers, executives from companies such as McDonald's and celebrities including Alec Baldwin are gathering.

Activists chanted "Tell Jerry Brown to keep it in the ground" and held signs reading "Don't drill" and "We're drowning". There were scuffles as police attempted to remove several protesters who chained themselves to the gates of the conference building in downtown San Francisco. Inside the venue, protesters interrupted a speech by Michael Bloomberg, the billionaire former mayor of New York, by chanting: "Our air is not for sale."

Brown's critics claim California's cap-and-trade emissions system, which allows major polluters to trade emissions allowances and offsets, is overly generous to fossil fuel interests.

They've also attacked the governor for allowing more than 20,000 drilling operations during his tenure, as well as for an alleged conflict of interest in which his sister, Kathleen Brown, sits on the board of Sempra Energy. Sempra owns the Aliso Canyon gas facility near Los Angeles which suffered a major leak in 2015, releasing more than 100,000 metric tons of natural gas before it was finally plugged.