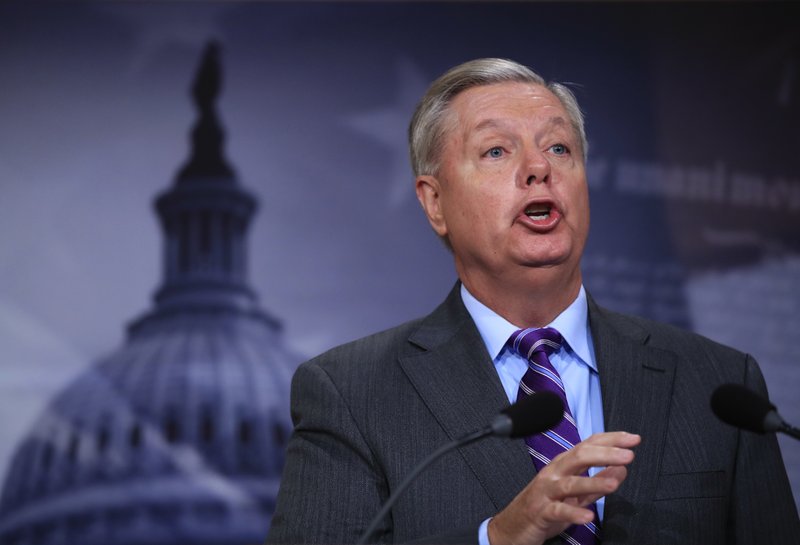 The puppet master strings have been cut.
COLUMBIA, S.C. (AP) — By the end, Sen. John McCain had rejected President Donald Trump. The president was so infuriated by McCain he put a biting reference to the dying Republican senator in his stump speech. Yet one man in Washington still had hope for bridging the gap between the two.

"I regret that he didn't have more time with President Trump," Republican Sen. Lindsey Graham told The Associated Press this week about McCain, his late friend and mentor. Graham noted McCain was able to forgive his captors during the Vietnam War. "Who knows what would have happened over time."

Graham's unexplained optimism, his eager attempts to soften Trump's rough edges, have confused colleagues and caused double-takes across Washington recently. The South Carolina Republican was McCain's best friend in the Senate, a self-described student of his politics and personal integrity. But he has deviated dramatically in his approach to the tempestuous and divisive president. While others stayed their distance — McCain perhaps most of all — Graham has gone all in, transforming himself into liaison, translator and, critics say, enabler of the president.

When establishment Republicans recently nodded knowingly at an anonymous editorial criticizing Trump's run of the White House, Graham was on Fox calling it a left-wing strategy to show Trump as "crazy" and echoed the president's unproven charge that the Russia probe "is falling apart."

The senator explains the shift from Never Trump to Team Trump largely in terms of responsibility. In an interview with the AP, Graham said McCain, who lost two bids for the White House, taught him that the country must move forward after elections. That means "you have an obligation" to help the president, especially a fellow Republican, he said. Graham says he's warmed to the president and suggests he's using that relationship to shape decisions — though he does not cite specifics.

"And I've tried to be helpful where I could because I think he needs all the help he can get," Graham said. "You can be a better critic when people understand that you're trying to help them be successful."

Graham has his own political motivations. His pivot comes as he is gearing up for his own re-election in 2020. The senator is popular in his deeply conservative state, but opposition to the president could mean risking a primary challenge.