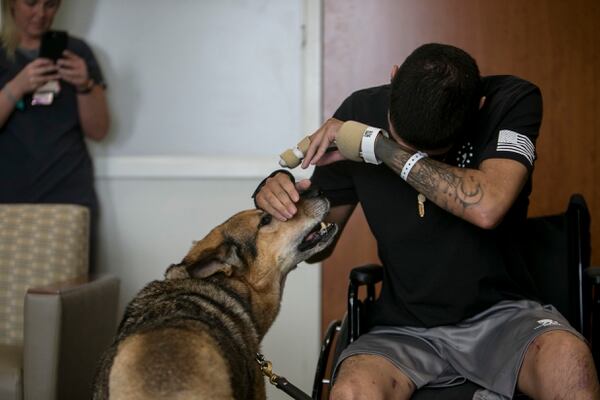 Via Army Times:
Six weeks ago, Army Spc. Alec Alcoser and his working dog, Alex, turned the corner of a narrow street outside Bagram Airfield just after dawn and saw a young Afghan coming toward them.

The San Antonio Express-News reports two Afghan and three Czech soldiers moved between Alcoser and the civilian to conduct a search while he called the dog back and bent down to get a cigarette.

Suddenly, they were enveloped by a bright flash. Alex yelped. Alcoser went down. The dusty, smoky air turned yellow and orange and a firefight broke out. The dog stayed at his side.

"I would yell at him and his ears would twitch, but he wouldn't look at me," said Alcoser, 22, of San Antonio. "I think he was in a state of shock. He didn't growl, he didn't bark, he didn't cry. He stayed right there."

On Friday, they were together once more, this time at the South Texas Veterans Health Care System's Polytrauma Rehabilitation Center. It was an emotional reunion, with the Harlandale High School graduate wiping tears from his eyes at one point and Alex licking his face.

It was the first time they had seen each other since both were in Washington, D.C., where each received the Purple Heart. And if all goes well in rehab over the next few months, they'll be together for good, buddies until the end.

They were close in Afghanistan, where Alcoser was 6½ months into a nine-month deployment when they got hurt. They were together pretty much everywhere Alcoser went, except the dining hall. On his days off, they slept in the same bed together, rising late and enjoying the leisure time.

On duty days, they had rituals.

"On a day with a mission, we'd wake up, I would give him a doggie treat and I would have some ice cream before we went out, and when we got back, we usually slept," Alcoser recalled.

"That was a normal day for me and Alex out there," he said, adding that a taste for sweets was born of his association with troops in special operations forces. "It was kind of their thing to eat a sweet because you never know if that's going to be your last when you go out."

The Aug. 5 suicide bomber's blast left Alcoser with shrapnel wounds and broken bones. He also had a mild traumatic brain injury, but his physical medicine and rehabilitation specialist, Dr. Blessen Eapen, said Alcoser escaped the explosion without any loss in cognitive ability.

Alex lost his left rear leg near his hip. Both are learning to get around again. Snapshots show Alex reluctantly settling in an underwater treadmill at Joint Base San Antonio-Lackland.
HT: Huck Funn